---
---
The Novikpogbe Za is an annual celebration by the indigenes of the Kedzi traditional area, locally and externally, for the socio-economic development of the Kedzi community.
The Dufia of Kedzi, Togbui Joachim Acolatse V, acknowledged the plethora of opportunities that the Keta Port project would bring, when developed stating his vision of ensuring that the human resource at the town's disposal would take full advantage of the impending project. 
According to him, "Recently the President of the republic Nana Addo Dankwa Akufo-Addo signed an executive instrument declaring the entire coastline of Kedzi as a port. Ghana Ports and Harbours Authority has since mapped out the Kedzi coastline for this purpose. By this gesture, we believe an opportunity has open up for the people of Kedzi to effectively utilize their natural resources to fuel development."
The Minister of Fisheries, Elizabeth Afoley Quaye, explained that it is in the government's strategic agenda of identifying needed areas for development, that it chose the Kedzi area for the construction of the Port.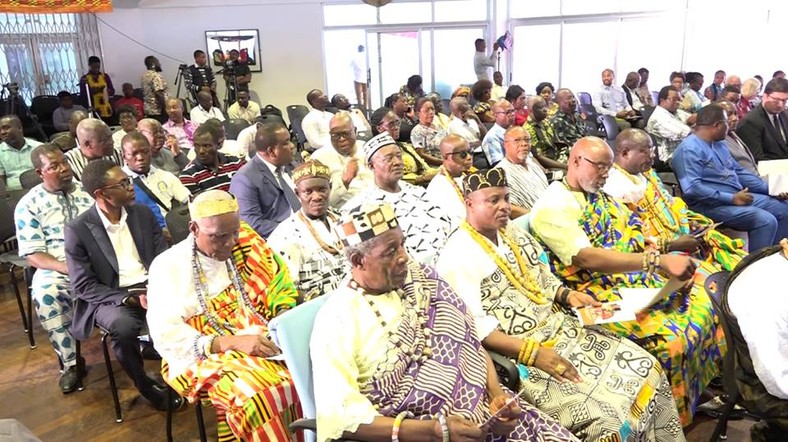 Chiefs and people of Kedzi embrace Keta Port project
"This ports for the Keta enclave by its visibility reveals that siting this facility here will generate employment and attract foreign investment into the area," Komla Ofori, Project Engineer of GPHA, said feasibility studies have been conducted and the area has been declared ideal and construction works will begin soon.
He said the project plan is double-faceted, with one side of the port allocated as a commercial port and the other, for tourism. 
"There are fresh opportunities we need look at, so there are investors, let us start talking, let's create the platform for the people to come and invest and build a facility that is good for us to work in," he added.