---
---
Twitter user @Aunty_Les who claimed the deceased was her cousin said the lady thought he was just having fun by pretending to be drowning, and the reality dawned on her only after the man drowned completely, leading to his death.
She wrote on twitter: "My cousin drowned yesterday. The girl who was with him was making a video asking him "is it deep". When he was drowning, and raising his hand for help, she thought he was calling her to come in, she was really saying "I can't risk my life like that o".
READ ALSO: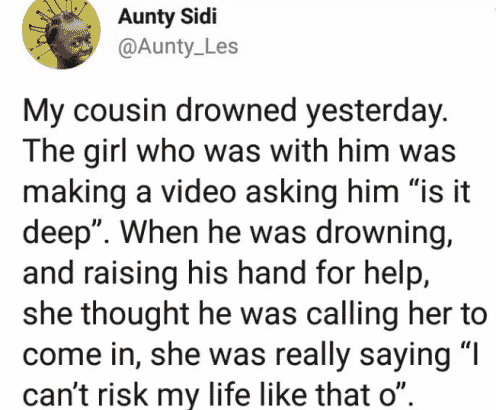 Man drowns while 'girlfriend' films it
Interestingly, it was that same video she had filmed of the incident that saved her from being held responsible for the guy's death.
The video showed that the deceased was standing at the shallow end of the beach, but the ground under him opened up because they've been dredging that area, gistreel.com reports.
Initially, people thought she had known that the deceased was drowning, but deliberately chose to film him instead of calling for help.
The part of the video which shows her telling the guy that "I can't risk my life like that o" exonerated her.